THE UK's used car market declined by 2.8 per cent in the second quarter of the year, according to the latest figures released today by the Society of Motor Manufacturers and Traders.
Drawing on data from the DVLA, the industry body said 2,034,236 transactions took place, representing a shortfall of fewer than 60,000 units compared with the same period last year as the market showed signs of slowing.
Used car sales have fallen in every month this year apart from March, when they rose by 1.9 per cent. In the second quarter, drops in the north-west and south-east of England as well as in Scotland drove the decline, while all other regions experienced increases in demand. Cities topping the list for used car sales were London, Birmingham and Sheffield.
Demand for petrol and diesel models declined in the second quarter, down by 3.7 per cent and 2.5 per cent respectively. However, combined sales of the fuel types still made up 98.3 per cent of the market. Meanwhile demand for hybrid, plug-in hybrid and pure-electric cars continued to grow, up 24.8 per cent, with 33,492 models changing hands. Of these alternatively fuelled vehicles (AFVs), pure electrics experienced the largest growth – up 32.8 per cent – with hybrids also rising 25 per cent to 29,321 units, but this growth was unable to offset losses elsewhere.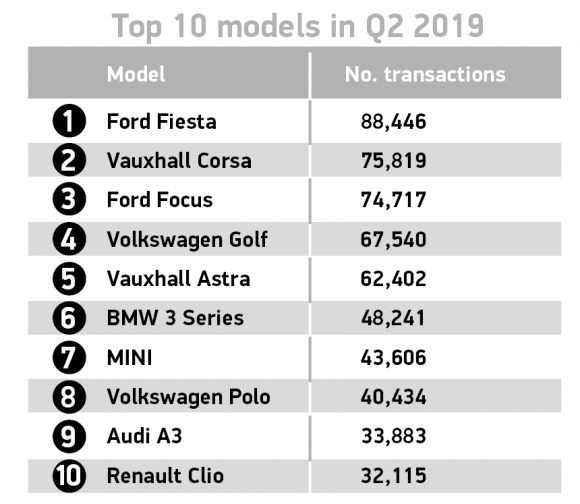 Reflecting trends in the new car market, superminis remained by far the most popular used buy, with 665,469 of these smaller cars finding new owners, while the dual-purpose segment enjoyed the largest growth – up 9.1 per cent to 227,197 units. One in five used cars bought between April and June were black – buyers' favourite colour choice ahead of silver/aluminium and blue.
Mike Hawes, SMMT chief executive, said: 'With the country still gripped by economic and political uncertainty it's perhaps unsurprising to see the used car market slowing down.
'This means owners are often holding on to their cars for longer, delaying the widespread introduction of the latest, cleanest models, which is not good for air quality. We need a boost to consumer confidence – something that a Brexit deal would deliver – to improve the fortunes of the industry and the wider economy.'
Reacting to the news, Sue Robinson, director of the National Franchised Dealers Association, said: 'It is important to note that we are comparing this year's results with an extremely robust market in 2018. Used and nearly new cars continue to be an important business area for franchised retailers.'
There was a positive aspect for the remarketing sector, with Louise Wallis, head of the National Association of Motor Auctions, saying: 'The auction market appears to be performing well and there has been a reduction in stock coming into remarketing centres, which has had a positive impact on both values and conversion rates.'
Meanwhile, James Fairclough, chief executive at AA Cars, which is the AA's used car website, said: 'Two successive falls in used car sales is a disappointing result for the first half of 2019, but there is still plenty of time to reverse this trend. By and large, the used car market has proved resilient in the face of political uncertainty, and the modest 2.8 per cent fall in sales offers some reassurance that it is holding steady on the whole.'